Sarah Farmer and Angela Gorrell to Join the Center's Team
The Center for Faith and Culture at Yale Divinity School has made a series of promotions and appointments to pursue its expanded work under the Theology of Joy and the Good Life project. For a full listing of recent YCFC appointments, read the announcement by YDS.
---
Sarah Farmer
Sarah Farmer joins the project as Associate Research Scholar for Joy and Adolescent Faith and Flourishing. She will officially begin on May 15th. Sarah comes to us by way of Emory University, where she received her M.Div. in 2008 and is completing her Ph.D. (expected this spring). Her dissertation is titled "Hope in Confinement: Moving Toward a Pedagogy of Restorative Hope."
Sarah's research explores the operationalization of hope in marginalized populations and the role of art in pedagogies that advance personal and social transformation. For the last ten years, she has worked with Dr. Anne Wimberly on the Youth Hope-Builders Academy. She has also co-directed a certificate in theological studies program at Arrendale Women's Prison.
Sarah will develop the project's extensive interest in joy in adolescence. She will also work with Miroslav and Skip Masback to lead the Center's Adolescent Faith and Flourishing Program.
---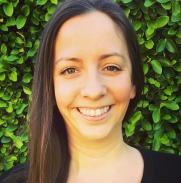 Angela Gorrell
Angela joins the project team on May 23rd as Associate Research Scholar for Evaluation, Field Development, and Public Engagement. Angela is completing her Ph.D. in Practical Theology at Fuller Theological Seminary, where she earned her M.Div. in 2010. Her dissertation explores "Social Media and the Church: Implications of Participatory Culture for Christian Formation."
Angela's research interests concentrate on contemporary ecclesiology and culture and participatory pedagogy, especially through new venues. She has already taught courses at Fuller and McCormick Theological Seminary in Chicago using multiple formats: in-person, online, and hybrid courses. Recently, she was part of a team of scholars from five seminaries who received a Wabash grant to examine the relationship between education, innovation, and agility.
Angela is an ordained pastor in the Mennonite Church USA and has 14 years of ministry experience at churches and parachurch organizations.